Benefits of eCommerce API for you Business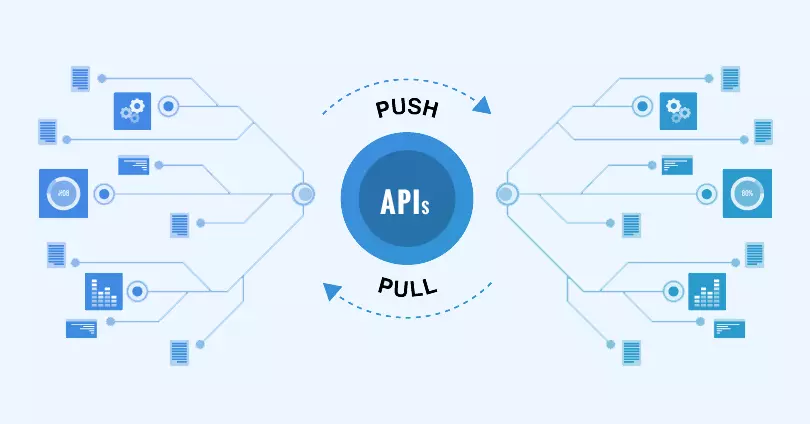 The last two decades are the technological age along with the web. We've witnessed a dramatic digital revolution with every advancement in technology over the past few years. The way people have accepted these changes rapidly in their daily lives is amazing in many ways.
In contrast to many other industries, eCommerce have seen a huge increase in their economic growth over the past few years. When the pandemic was raging as well as healthcare, eCommerce was the only sector that caused an immense shift in demand and supply all over the world.
It hasn't occurred overnight. Each advancement in technologies, including software-as-a-service (SaaS), Internet of Things (IoT), cloud, augmented reality (AR), virtual reality (VR), smart-mobile, big data, social media, and other technologies, have changed customers' approach towards the eCommerce industry.
Do you know what commonalities they have in common when connecting the eCommerce software and other applications to get greater performance? It's the interface for application programming (APIs).
So, what is API and how do API Function?
API or Application Programming Interface is a machine-friendly interface that allows two programs to communicate and share data. An API that is well-defined allows for easy sharing of data and connection to other applications regardless of the design of the data structure and the platforms.
Put simply, API make it a seamless procedure for applications to carry out their particular functions.
An eCommerce API can help automate to coordinate and streamline their business processes, which include fulfillment of orders, payment gateway labeling, shipping tracking, tracking the order and delivery confirmation, courier management review, and rate notifications.
If you're or are an eCommerce enterprise owner or manager, you understand the importance of integrating a appropriate eCommerce API in the company's model.
How do API Work?
Data ordering that is correct simplifies the process of ordering data. How does an API function? API or the application programming interface. API aids in the data ordering process to make it smooth and effortless corporate eCommerce implementation.
API Connect your eCommerce platforms to relevant back-end systems, such as:
(POS) Point of Sale (POS)
Warehouse Management System (WMS)
Order Management System (OMS)
Content Management System (CMS)
Customer Relations Management (CRM)
The seamless operation of this back-end software system your current eCommerce platform makes your company agile and flexible. It also helps ensure that your customers have a consistent experience.
Benefits of API Integration for an Identical Customer Experience
API-integrated platform for selling products let customers do multichannel shopping. No matter where you are the customer can purchase their items without difficulty. One of the main benefits of providing a well-developed eCommerce API.
However, it's an extremely difficult task and allowing your customers to the benefits of your multichannel shopping platform. Information interpretation, or gathering could encounter some issues because your eCommerce API integrates with a number of devices.
Once you've started connecting the data of all your multichannel systems/machines into one place to be analyzed, it could be able to work using API connectivity.
Then you will be able to realize the advantages from an API integration into your existing eCommerce application?
Developers are aware of this and already have the most up-to-date API to deal with this problem.
Modern eCommerce platforms are reuseable and modern technology-driven API which allow you to remove stuck data on any platform, then process the data, and offer the same experience to customers while shopping.
The main benefits of integrating the correct API are as follows
API Extensible
API serve in a way of facilitating the one that you integrate to send and receive requests. Additionally, it permits users to add or subtract from your system using an easy integration process. This process leads to an extension of your application/website's functionality, enabling it to work faster.
Advanced Security
The security of your website or application is crucial when it comes to the data of vendors, consumers and payment gateway capabilities. If you have the right API integration, you will be able to provide an additional layer of security to these areas.
Scalability
API allows you to integrate the existing systems for eCommerce to an eCommerce software without altering the software, system, or the hardware. This allows you to expand exponentially, since you benefit from cooperating with others.
Reusability
API is reusable, because they are developed using an approach that is service-oriented, which saves both time and cost for the person who is responsible for it.
APIs are classified into Three Types
The APIs are available below to help you make enhancements in performance and functionalities.
System API
By using the API of the system that you can use, you'll be able to conceal the details of your eCommerce application that are essential to their functionality including ERP (ERP), customer relationship management (CRM) FTP servers, as well as older systems.
Process API
Process API help create independent data sources that break up the soil of data within a system or across different systems. The process API does not rely on a different system from which the data is derived or is received.
Experience API
Experience API offer data reconfiguration to utilize the same data across multiple channels. This way developers don't need separate data to each channel. Users are able to benefit by the same information from several channels.
The API section above is an excellent resource to provide an Omni channel, consistent customer experience when shopping for a variety of customers around the world.
It also gives you the possibility the change in your data interpretation across multiple channels to meet the needs of your customers more precise.
12 ways your business can benefit from an API for eCommerce
From information on the product to validation and advertising, there's a myriad of ways that an eCommerce website or application developer can make use of API. API simplify the process of shopping and guarantees reliability and authenticity from both the customer and service provider's ends.
Below are some examples of 13 types of APIs that will improve the customer experience while increasing your eCommerce website's performance and usability.
Information API for Product Information API
With the API for product information it is easy to obtain all product information from the available data including the product's name, description, available quantities, the product's ID, titles images, price and more.
Authentication API (Login/registration)
We all know of this procedure. Here, you enter your details (name, address, Valid Email Id, cell phone number, etc.). This assists the service provider in confirming your identity.
Validation API
Validation API facilitates the process of validation, regardless of regardless of whether a brand new or an existing user navigates their journey through the website or application. Based on the results it will classify the user, and avoid delivering incorrect deliverables.
Catalog API
With the catalog API, you can quickly edit, add, and manage your catalog of products. You can make changes to the details of products quickly since it is compatible with the core software of your company application, such as managing inventory as well as reporting and analysis.
Orders API
From export to import, the order API can help you gain an accurate view of the specifics of every order that is placed through your channel. In addition, customers have the ability to filter and sort out cancellation orders, returns orders, bulk orders and other options.
API for Payments
Payment API helps you classify your payment gateways in the form of credit or debit card UPI payment or cash on delivery (COD options) depending on the requirements you have.
API for Shipment
The API for shipment allows you to connect with logistic service providers in order to deliver your goods to the appropriate client. This involves tracking packaging, invoicing and the labeling of the product.
Courier Service API
It is possible to integrate the courier API to determine whether there is a courier services at a specific location. This will allow you to ensure smooth and reliable delivery of your parcels.
Inventory API
Inventory API lets you change your inventory of specific products information.
Social Media API
Here you can tailor social media platforms such as Facebook, Twitter, and Instagram APIs to your eCommerce application to allow for reviews, customer engagement and referrals.
Marketing API
The marketing API lets you to create automated email campaigns based on your customers' shopping experience. In terms of location and product!
API for Customers
Developers are able to extend the customer model by adding their attributes, and add more information about the customer to the model.
How to Create an Integration with an eCommerce API?
So, the above discussion of eCommerce API, different types of APIs, and eCommerce models could have led you to believe that it's a complicated process to pull.
Each of these types of API development and integration demands substantial amounts of time, money, and resources.
After deployment you must remember the maintenance and time-to-time updates to ensure a more constant customer experience.
We suggest you get professional assistance with the eCommerce API integration in order to prevent any unnecessary obstacles.
It is possible to contact Metizsoft Solutions, an innovator in the creation of an scalable eCommerce APIs that have significantly changed the way that eCommerce companies. With the strongest developer team, they'll make sure that creating an eCommerce API that is simple procedure.
Don't forget to press button button to contact button when in emergency!
Closing up
In the fast-paced world of digitalization, eCommerce business has made significant strides with every API integration. From catering product information to delivery methods and order fulfillment, API can help you improve your operations, and give you an advantage over your rivals across the world.
Looking at BigCommerce Development Company API integration could help you understand the detailed process for the API integration process within all existing eCommerce models.